3 versions of Strada-Sphere Radio!
1) The Strada-Sphere Radio Stream hosted by
SoundClick.com
. This is where it all started!Available 24 hrs a day and featuring uninterrupted Stick music from SoundClick Artists offered in both Hi Fi and Lo Fi.Click and listen now!
The Strada-Sphere Radio Stream
We just added more Stickists to the stream!
2) The Strada-Sphere Radio Podcast.a 30-45 (or more) minute show. Head on over to the
Strada-Sphere Radio Podcast Blog
to find out more.
3) Now we have a show in Spanish!
Listen to current and past shows using the Big Contact player at the top of the page,complete with show notes and links, or you can launch a separate Pickle Player window using the button below.This will allow you to surf away from the site and still enjoy the podcast.Just remember to disable any Pop-Up blockers.
Subscribe via
Apple's i-Tunes
by clicking on the i-Tunes window below.Your i-Tunes player will open to our subscription page at the i-Tunes Store.Click "Subscribe" and you're done!You can also click the "chicklet" below which will open a seperate window where you may choose from several subscription options (free,of course) including i-Tunes.Now you can have Strada-Sphere Radio on your i-Pod...
"Click the Chick"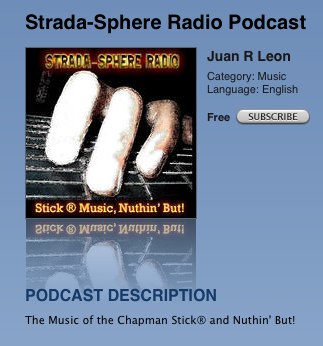 Got i-Tunes? Subscribe by clicking the graphic above!